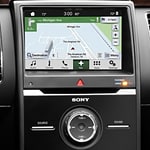 Royston, GA locals who've been driving the same cars for years are likely missing out on a number of cutting-edge technologies. With consumers increasingly looking for smart, efficient, and feature-rich vehicles, auto manufacturers are producing cars with systems that seamlessly fuse information and entertainment. With these, drivers can get weather updates, traffic alerts, and customized driving directions, even as they listen to their favorite music, audiobooks, and more. At Tri-County Chevrolet, we're excited to tell shoppers more about these technologies, including why they're so important.
What Infotainment Systems Include
In-vehicle infotainment systems are designed to deliver information and entertainment via touchscreen displays, button panels, and audio/video interfaces. When paired with smartphone integration services, they give drivers hands-free access to their emails and text messages, and the ability to make hands-free calls. Motorists can also pair up their devices to access their favorite music playlists and other digital libraries. In some autos, in-vehicle infotainment can even include monitors for viewing at the middle or rear seats for back passengers. With these, rear passengers can play video games or watch movies while the vehicle is parked or in motion.
Why Upgrade to a Car With Advanced Options in Infotainment?
Everyone can get more pleasure from a vehicle that's equipped with these technologies. Not only are they engaging and great for keeping passengers comfortable on long drives, but they also make hands-free use of cell phones and other devices easier and more enjoyable. To find out more about in-vehicle infotainment systems or to take one of our fully-equipped autos out for a test drive, visit Tri-County Chevrolet today.